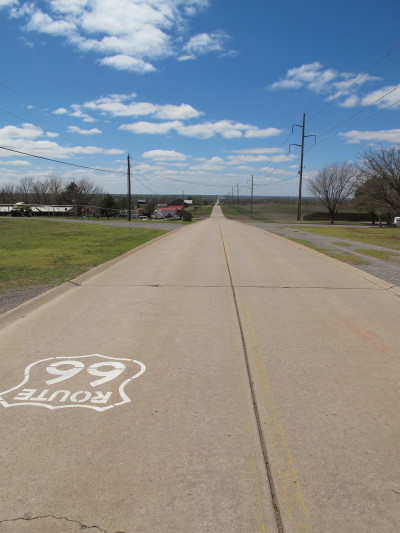 Ever since I moved to the United States at the age of 17 years, it's been a dream of mine to drive cross-country from east-to-west on Route 66. It's a well-known fact that Route 66 has not been maintained after Interstate 40 became the main bicoastal route. However, there is still plenty to see of both the old highway and the charming towns along its route.
I had been talking about taking this trip for several years, but it's a matter of making it work on many levels. I had to find a convenient time in terms of work, family, and my traveling partners. It's also a good idea to travel off-season especially avoiding school holidays, when the roads are less crowded and the prices are lower. Well, being on sabbatical from work helps, and also having a supportive husband who would rearrange his schedule to take care of our two children while I was gone.
When planning to drive more than 3000 miles (4600 km), it is important to choose compatible traveling partners. There should be an agreement of how far to drive on a daily basis, sights to see, and don't forget that GPS! By the way, we were pretty close in estimating the distance. When we reached Las Vegas, we had covered 3050 miles (~4880 km). As an organized person of nature, I had mapped out the general route and skimmed two "handbooks" about Route 66 travel (Drew Knowles' "Route 66 Adventure Handbook" and Tome Snyder's "Route 66 Traveler's Guide and Roadside Companion", both purchased on amazon.com). In addition, I received information through AAA, including maps, trip advisors, and books for several states. Tone and Kristin, my Route 66 partners, had done similar groundwork and we compared notes prior to the trip.
I had estimated the cost with a general budget. However, I figured that the majority of planning details would be done while driving. In other words, we wanted to have a general idea where and how far to drive each day, but we still wanted to be spontaneous! We wanted to eat when we were hungry and to sleep when we were tired, rather than having to reach a specific destination.
A big decision in planning this trip was what type of car to rent, and in our case, it became a funny story. Since we were only driving one way and flying back from Las Vegas, our final destination, we had to find a car-rental company offering one-way rentals. Initially, we wanted to have the full "Thelma and Louise" experience, from the 1991 adventure movie. Maybe we would be lucky enough to run into a delinquent robber, Brad Pit, like Geena Davis and Susan Sarandon did. Just, kidding! I am a happily married woman.  We ended up reserving a red, convertible Mustang figuring we'd be the coolest middle-aged chicks on Route 66! Several friends and family members warned us that it might not be the best choice because of the size (very tight in the back seat and limited luggage space) and the noise level while driving 65-75 mph with the rooftop down. However, it was not until I walked past a couple of parked Mustangs in Manhattan that I realized how small they were and how uncomfortable the backseat person would be during a long ride. We decided on a less lucrative, but big, comfortable, and reasonable Dodge Journey AWD from AVIS with up to seven seats. Later in this blog, you will find out why it was the best choice we ever made.
I am sure you realize that there are so many ways of doing a cross-country trip, but I hope our experience will add some information to your plan.