It's impossible to see all the hotels in Vegas on a 5-day trip unless you make it your primary day-night mission, something we were not interested in. We had picked out a few hotels we wanted to explore further and at the end of our stay, we were happy with what we'd seen. The first night, we headed to Paris Las Vegas Hotel and Casino. We walked past New York New York with the skyline, Empire State Building, Statue of Liberty, Chrysler Building, and the Brooklyn Bridge to get to the Eiffel Tower; pretty amazing! We walked through narrow cobble stone streets inside the hotel with small boulangerie and brasserie. Being a little touristy (who isn't?), we ended up in probably the biggest restaurant in the hotel, Mon Ami Gabi. The steaks were delicious and we had a nice window table.
Tone had one wish while in Las Vegas and that was to see the Venetian Hotel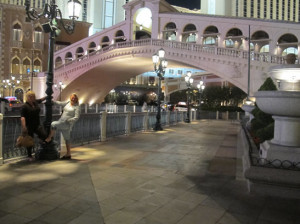 , the largest hotel in the world by bed count. It was almost at the other end of the strip across from Mirage and we ended up taking the Monorail with a station conveniently located in the MGM. One night you're in France and the next in Italy! Not bad! There were narrow streets; rivers with gondolas and the ceilings were painted blue with clouds. Only in Las Vegas! We ended up at B & B Ristorante with chef Mario Batali who took his New York City (Otto Restaurant) and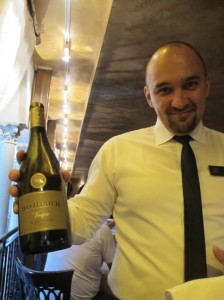 opened another successful place in Las Vegas. It was pretty luxurious with a waiter and a soummelier who suggested a $120 white wine bottle – a little out of our league! We ended up with a very nice bottle for $80, but personally, I probably wouldn't have known the difference if I was drinking a $7.99 Pinot Grigio (like I usually do).
The start of our dinner in a fairly luxurious restaurant started a very interesting discussion; comfort level in expensive places! I have never felt comfortable being "waited" upon, especially when the service is superb such as the place we were dining in. I'd rather be in a "down-to-earth" place with good food and laid-back service. It's something about the more expensive places that makes me uneasy, for example, I obsess about how much to tip and if it'll be enough. That's not a way to spend dinner. The same goes for the luxury suite we were currently staying in where I literally made my own bed "not to bother" the maid service.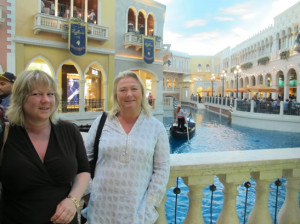 Yes, call me crazy, but I think I take after my mom! It was a very interesting conversation and certainly a good thing that Kristin and Tone didn't feel the same way, lol.
Our last night in Vegas, Wednesday April 25, was the big show night. I had always wanted to see Cirque du Soleil "O", the water version, which only plays at the Bellagio Hotel in Las Vegas, but I was never able to get tickets on our previous trips. This time, I purchased tickets three months in advance and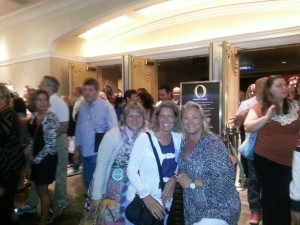 even at that time, they were almost sold out. I am such a Cirque du Soleil fan and have seen many, many of their different performances. James and I saw them for the first time in 1994 when they parked their "circus tent" in Battery Park! Since then, I followed them to Canada and also took the kids multiple times to their performances on Randall's Island, NYC. We actually got dressed up with the only dress we brought along on the trip and headed over to Bellagio. We came just in time to see the water-show outside the hotel with the fountain "dancing" according to the music playing. All we could think about was the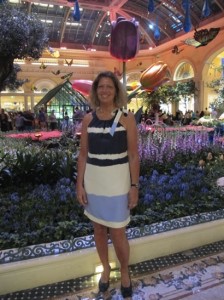 movie "Ocean's 11" with the star cast walking outside during the last scene with the fountains moving to music. We actually called ourselves the "Ocean's 3" while in Vegas.
What a hotel! The aroma of their flower gardens, the amazing butterfly house, and beauty of the glass flowers, Tiffany style, lining the ceilings was something else. We were lucky to get a table at FIX, an American cuisine restaurant. It was a perfect fit prior to our show. We had orchestra seats and the one hour and forty minute show was indescribable. The combination of the scene being solid and then made into a deep pool multiple times during the show, the costumes, make-up, acrobatic, dance, music and clowns were out of this world. For $188 per ticket, it was worth every penny.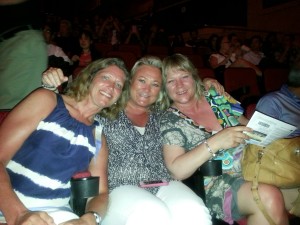 You may have noticed that we didn't gamble up to this point, and honestly, I had no desire. This was my fourth time in Vegas and I hadn't gambled on any of my trips. Although I'm a compulsive person, I don't think I would get hooked on gambling, but I just don't see the fun sitting at a blackjack table or slot machine. However, Tone had wanted to try her luck, but it never seemed to "fit" our "busy" schedule. By the time we got back to our hotel from an evening on the Strip, we just wanted to go and relax in our luxury suite. Also, smoking was allowed everywhere in Las Vegas, including the casinos and gambling tables, and it got very smoky to stay there and watch. I can't even begin to express how sad it is to see certain groups of people gambling. In my opinion, the two following scenarios are the worst: First, the individuals sitting at a high-stake gambling table (usually a semi-closed off area) at 5-6am, pale as a sheet, biting their nails and possibly perspiring. You know they've been there all night and possibly cashed in most or all of their savings and valuables. Second, the elderly (60-80 year olds) women and men sitting at the slot machine with their walker next to them, possibly with an oxygen tank nearby (out of the smoking area) and smoking while pulling the slot. From a health standpoint, I get chills when I see them. By the way, I think the charm of the slot machines disappeared when they stopped the coin system and started with credit cards. Where are the buckets with all coins?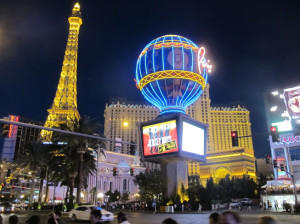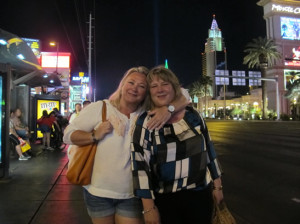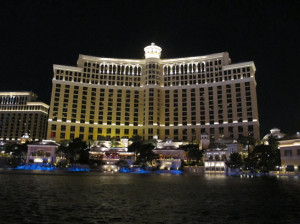 Las Vegas is certainly not cheap. It was a whole different ballgame when James and I came for our honeymoon in 2006. We ate, drank and stayed for a very reasonable price. This trip was by far the most expensive in terms of dining and entertainment. Although we lucked out with our hotel deal, the dinners varied from $200 to $260 for the three of us (usually including a bottle of wine and main course). It might not seem that expensive, but when you're used to New York prices and you react to the expense in Las Vegas, something is wrong! Of course we realized it was a lot cheaper to buy water and snacks at a CVS or Duane Read because a bottle of water in any hotel would easily run $4-5. The good thing was that "outside food", i.e. to bring a tea or water from Starbucks, into the pool area was allowed. If you want to do Vegas in a cheap way, you have to shop around.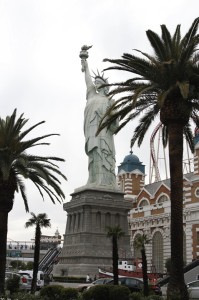 Although it was sad to bid farewell to luxury in Vegas, we were somewhat ready to get back to peaceful New York. I know it sounds crazy, but it's actually true. I've always said that five days in Vegas is the max I can stay. By then, you are so over-stimulated from the lights, noise, and impressions. We had a restful last day and took a late afternoon plane back to New York, landing shortly before 1am at JFK airport. No traffic on the cab ride back to good old Manhattan. Nice to be home!!!!