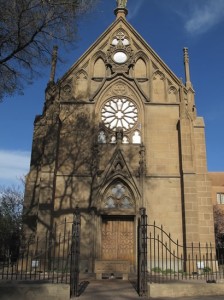 Next stop this late afternoon was Santa Fe, NM, the oldest capital city in the United States (year 1610). Driving into the city on the famous Old Santa Fe Trail was an amazing experience. All the buildings were based on the Spanish Pueblo Revival style including earth-toned, flat-topped buildings, wood-beamed ceilings, and doors as well as window frames in white or turquoise. Although the majority of houses only have this as a surface (referred to as "Santa Fake"), it still looks beautiful. The authentic buildings made by the Pueblo Indians using the true adobe (a mixture of earth, straw and water that was shaped into bricks and dried in the sun, often several feet thick), kept the interiors cool in the summer and warm in the winter. The earthy color of the buildings gave a special effect against the blue sky and beautiful sun.
We spent two hours in Santa Fe walking around and window-shopping. The Santa Fe Plaza in the middle of downtown was a good place to start. Although touristy, it was open with cozy cafes and bars. It truly bothered me to see one side of the plaza filled with Native Americans sitting bundled up in blankets selling arts and crafts. They should've been in the fancy storefronts now run by all other ethnicities. To me, it was impossible to ignore the history of the Native Americans as we walked around town; the fact that the majority live in reservations with more socio-economic and health problems than most other Americans. Imagine if history had taken a different turn? The historical buildings and sites were impressive from Museum Hill to multiple chapels and not to forget the spas! I have seriously considered going to New Mexico on a spa trip and Santa Fe is certainly a place to consider.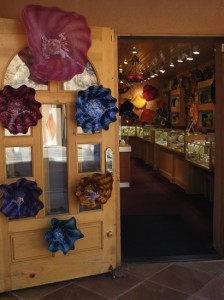 A little concerned we wouldn't get a hotel in Albuquerque where we planned to stay for the night, we called a couple of hotels recommended by the AAA Tour Book for Arizona & New Mexico. These books were beneficial for hotel ratings, description of major cities, and especially detailed maps. Arriving in Albuquerque after 7pm, we checked in to the most modern hotel we'd stayed in thus far, the Double Tree Hilton Hotel. It was a business-like hotel downtown, not very charming, but conveniently located. We went out to get some dinner and had heard that Central Avenue was the place to go at night, lots of restaurants and bars. Well, that was a major disappointment. On a Friday night, the avenue looked more like a cheap party scene with lots of drunk, not very well behaved young people. There were only a few restaurants and the ones we saw did not look very appetizing. We finally ended up at Tucanos Brazilian Grill on Central Avenue, but we had no idea it was a buffet style restaurant (none of us were fan of buffet style dining). Although the food was decent, we would've gone to the Old Town that evening instead of saving it for the morning. Well, at least we got something in our tummies before bedtime.