It was close to one in the afternoon when we left the canyon and headed south on Route 64. Once we reached Williams, AZ, we debated on continuing I-40 W until the junction to 93 North, the final stretch to Nevada, or experience our last opportunity on Route 66 driving a 50 mile detour northwest. According to our travel books, this was supposed to be one of the most impressive scenic parts of Route 66 and we were in no hurry. Certainly glad we made that decision! It was not the places such as Peach Springs, Truxton, Valentine and Hackberry that were impressive, but rather the nature. Initially, it was rather flat and desert-like, but then it drastically changed to hills, vegetation, and colors similar to what we just observed in the Grand Canyon. For anybody going a similar route, this part of Route 66 is a must!
We reached Kingman close to 5pm and we knew this would be our farewell moment with Route 66. Kristin had read about a historic place to eat, Mr. D'z Route 66 Diner, and we were determined to find it. We ended up driving back and forth through Kingman, but realized if we just looked for the building number we would've saved some time. It was definitely worth the effort and we ended up in a diner straight out of the movie "Grease". The pink and turquoise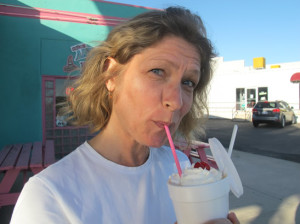 building had an old truck parked outside, with tables and chairs. Inside was decorated in the same colors, with a big jukebox, a huge gumball machine, black & white-checkered floors, and an old-fashion diner bar with low round bar stools. It was like taking a time-travel back to the 1970s! We truly enjoyed our very late lunch with BLT and burgers served in a plastic basket with red-and-white checkered paper and fries. This was the moment I had been waiting for; where would be a better place to get a real old-fashion milkshake? We all got chocolate milkshakes with whipped cream and a cherry on top….. HEAVEN! I have never had a milkshake like that ever, so thick we literally had to use a spoon. It took us almost an hour to finish while driving, but the ? 1500 kcal was definitely worth it.