Right outside Kingman, we bid our farewell with Route 66 and began our last stretch on 93 North towards Nevada. It was a little sad and although we were excited to spend the next five days in luxury, this road trip had been amazing thus far. It was about an hour drive to Nevada and Hover Damn, and knowing the sunset would be shortly after 7 pm, I was pushing the speed limit on the flat, straight road. We just made it at dusk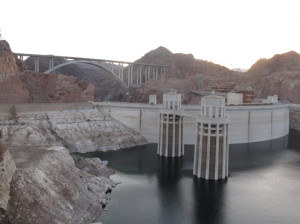 and managed to park the car to catch a glimpse of the sunset through our camera lenses. Unfortunately, we also witnessed a motorcycle accident, but nobody was hurt. I had been to Hover Damn before so I wasn't that interested, but the history behind it is interesting.
Our goal had been to drive into Las Vegas in the dark, and we were right on time schedule. This was my fourth trip to Vegas, but I had flown in every time. It is impressive to fly in the dark night and suddenly see an oasis of light in the middle of the dessert. I had never seen it from the road, but as we passed Boulder City and drove over the last hill in the dark it was impressive to see the overwhelming amounts of lights down in the valley. This is coming from Hover Damn with a slight descent down to Vegas.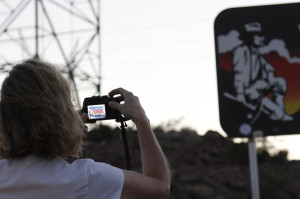 At this point, we were truly grateful to have "Marianne", our GPS, in the car. I'm sure we would've found our way without her, but to read maps and look for the appropriate exits in the dark is not fun. We filled the tank for the last time and reached MGM Grand a little after 9pm. Although we were able to drop off the keys at a designated box in the garage (the AVIS office was closed), I had to return the GPS and fill out an accident report the following morning.