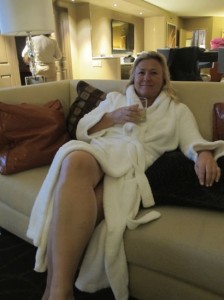 The last part of our evening is the most glorious. I am usually not a lucky person, for example, I've never won as much as $1 in lotto or similar games, and I always pick the longest line to wait on. However, this would turn out to be our lucky night. As we checked into our Executive Queen Suite (slightly bigger than a double queen hotel room), they declined our request for an extra bed. Although it was tempting to get an additional room in order for all of us to have separate beds, the special deal we had received on this room was worth sleeping a little tight. The total package came to $562 for four nights, less than $200 per person, but an additional room would cost us another ~$600. We reminded ourselves that we were in Las Vegas to have fun and not to sleep. As we entered the room on the fourth floor (I was a little disappointed we weren't higher up to see the view), we were happily surprised to see a big corner couch one of us could sleep on. The room was quiet big with two queen size beds and we all said: "This is great!" simultaneously. Once we were all the way inside, Kristin suddenly said: "Somebody lives here!" and we all saw clothes and shoes scattered around the room. No need to explain how uncomfortable that made us feel, and we went out in the hallway immediately.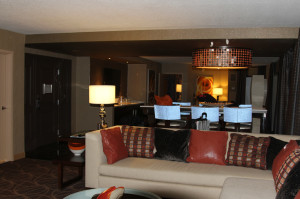 I volunteered to "fix" the problem and on my way downstairs, I realized this might be the opportunity to solve our bed issue. It was quiet embarrassing to go up to the counter of this incredible hotel (believe it or not, it's the second largest hotel in the world, by bed count, right after the Venetian Hotel, also in Las Vegas), sweaty after a day in the Grand Canyon and on the road, with shorts and chocolate stains on my white T-shirt. I looked around me and all I saw was heavily made up girls with tube dresses so short you could see "almost everything" and 6-7" heels most of them couldn't walk in. The guys would kink their necks and drool as they walked by. As a happily married mom of two beautiful children, I was in a whole different category.
They were very apologetic in the reception, but insisted the room had been assigned to us. In other words, nobody knew why there were people in our room. I insisted on getting a room of the same quality or better and it took the receptionist three trips to his boss before offering a deal I couldn't resist. He had given me some offers, i.e. splitting us up or giving us a double queen size room, but none that were acceptable to me. When he brought a book to show me his last offer, I tried to keep my composure as I flipped through the pages with pictures of our "room". He verified that the price would be the same before I headed up to Kristin and Tone.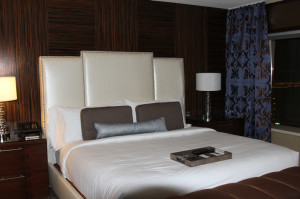 They were full of questions, but I just guided them up to the 15th floor without saying a word. We walked down the tower hall with approximately 30 hotel rooms on each side, and the last door was ours. It looked exactly like going into the boardroom on Trump's show "The Apprentice," a dark wooden door with mirrors, flowers and of course, cameras right outside. I had butterflies in my belly like a little kid in a candy store when entering into the Skyline Marquee Tower Suite and I was not prepared for the luxury that awaited us. This was a 1,400 square feet suite with a 180-degree panoramic view of the Las Vegas strip. It had two private king-size bedrooms with a separate sofa section in each and two classic Carrera marble bathrooms with a Jacuzzi, shower and spa bathtub in each. The walk-in closets in these bedrooms had luxurious robes and slippers. There were two large living rooms with corner sofas, glass tables and separate desk. A dining room with a large table comfortably room for 8 to sit and dine separated the two living rooms. An oversized bar dominated one of the living rooms and there were four, yes, FOUR flat-screen HD televisions ranging in size from 47" to 60". Everything was remote. We soon found out that the maid service came three times a day to clean up, fluff our pillows, and lay out our robes. Unbelievable!!!! Exhausted from a long day, nothing felt better than a glass of wine in our plush, snuggly robes to celebrate our welcome to Las Vegas.