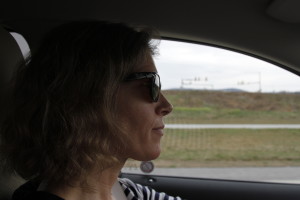 09:50   Departure from Lower Eastside, Manhattan, New York, NY
10:06   Entering New Jersey from Holland Tunnel. I-78 W (Garden State Parkway)
11:10   Entered Pennsylvania on I-78 W. Stayed on I-78 for a total of 135 miles (216 km)
12:27   Changed to I-81 S close to Friedensburg (before Harrisburg), Pennsylvania
12:33   A 30 minute lunch stop at a gas/rest-stop, Exit 77
13:03   Continued on I-81 S
14:14   Entered Maryland on I-81 S
14:24   Entered West Virginia on I-81 S
14:48   Entered Virginia on I-81 S
20:05   Exit 7 near Bristol, VA on I-81 W, but very close to the Tennessee boarder, stopped for the night at the Microtel Inn and Suites.
Total travel distance: 528 miles (845 km)
Total travel time: 10 hours 15minutes (including ~ 1:15min breaks)
21:30   Dinner at the local Olive Garden.