The day was finally here; time to start our cross-country trip from New York to Las Vegas via Route 66. We were so excited! The night before departure, we went out to dinner in New York City and discussed the final plan for our first day on the road. We were all in agreement that most of the planning and decision-making would take place while driving rather than being locked into a tight schedule. We even came up with a name for our adventure: "Unified K.U.T. Trip" based on our initials.
My long-time friends and travelling buddies, Tone and Kristin, are from Norway, but with International driving license status, we could all drive. To get over their jetlag, they arrived two days before our departure. I had sent the kids off to school and my husband to work with big "see-u-later-alligator" kisses, and I was FREE (at least for the next 12 days)! As we were walking to AVIS to pick up the car, I remarked on how perfect the weather was for running (and travelling). It was partially sunny, in the low 60s with a breeze. This was the first time in the past four years I was missing the Boston Marathon. My Guardian Angel must have been with me today. Like the rest of the world, I was in shock when hearing the unimaginable, horrific news of the bombings at the 2013 Boston Marathon. As an avid marathon runner, it is the most peaceful marathon I've been part of, and an act of terrorism was the farthest from my mind. The thought of having my family watch from the sideline, like they did two years ago, and possibly be affected, made me sick to the core.
At the AVIS office, we decided to add liability to our car-insurance. I think insurance is a tricky subject because I feel the car rental places want you to get everything they offer. I rent cars fairly frequently and keep a "Premium Car Rental Protection" through American Express, approximately $25 per month. However, I had never read the fine print of what it covers, and therefore we opted for more car insurance. Kristin and Tone had travel insurance covering personal injury, and I have my own health insurance.
The car was beyond our expectations! I was obsessed to know the location of our reserve wheel and that the jack was in place. After reading several blogs on how Route 66 explorers should expect to have a flat tire at some point, I had nightmares about being stranded in a remote area of the United States with a flat tire. It was intact and we were off to the South-West!
Our "roles" on the road, for the next seven days, became clear early. In my opinion, Tone and I are organized planners who can become a little domineering, while Kristin is the calm neutralizing factor. What a perfect combination! This goes back to my point of choosing the right travelling companions. I took the driver's seat as we departed from Manhattan at 09:50am that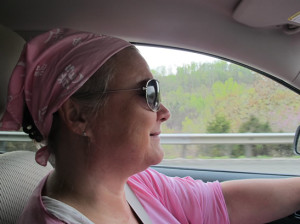 Monday morning, April 15, 2013. Tone was the map-reader in the front passenger seat, and Kristin had a comfortable back seat spot as the "recorder". It is thanks to her notes I can write a more detailed blog of what, where, and when on our trip. These would be our seating arrangements, by choice, I must note, for the remainder of the trip: Tone and I taking turns driving and reading maps (50:50), and Kristin being the backseat driver. However, she did take her turn driving a stretch on Route 66.