07:00   Up, bright and early.
08:10   Walked to Old Town, Albuquerque, NM
08:50   Breakfast at Red Feather Diner in Old Town. Went shopping.
10:20   Walked back and check out.
11:02   Drove from Albuquerque on I 40 W
13:30   Reached Gallup on Route 66 and stopped at the El Rancho Hotel and Motel
13:50   Continued on Route 66
14:10   Entered Arizona!
14:30   Stopped for lunch at Joe & Aggie's Café in Holbrook, AZ.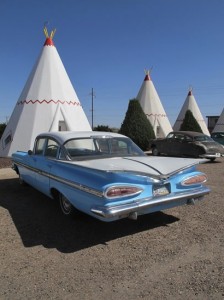 15:15   Went down the road in Holbrook to the Wigwam Motel
15:45   Reached Joseph City, AZ on Route 66 where we stopped at the famous Jackrabbit Trading Post, taking pictures of the billboard proclaiming "HERE IT IS"
16:00   Continued on I-40 W (no Route 66 on this stretch) to Flagstaff AZ where we took 89 North followed by 64 West to the South Rim of Grand Canyon National Park
18:07   Arrived at the entrance to Grand Canyon South Rim
18:20   Parked at the Tower View where we saw the sunset at 19:07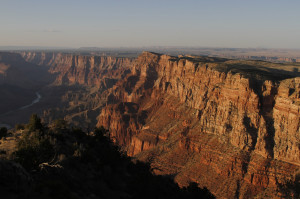 19:15   Drove ~25 miles along the South Rim
19:50   Arrived at the Grand Hotel, Grand Canyon, AZ
Total travel distance: 440 miles (704 km)
Total travel time: 9 hours 50 minutes (first, including one hour in time difference, but then ~ 2 hours and 30 minutes in total for "breaks")
21:10   Dinner at the Grand Hotel Grand Canyon