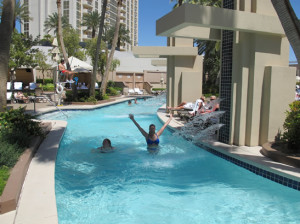 Waking up in our fairy-tail room was truly like a dream. I slept like a baby in our temperature controlled suite and my king-size bed with just the right amount of covers. We quickly came in to a "routine" which consisted of:
1) Waking up without an alarm clock around 8:30-9am
2) Stopping by Starbucks on the way to the pool area and grabbing coffee/tea and a light breakfast to eat at the poolside
3) Swim, suntan, read and relax until 2ish (usually included a very expensive $20 piña
colada or daiquiri poolside)
4) Lunch was at the same place every day: Witchcraft Café. I thought they only existed in New York, but I was happy to find it at MGM. I love the goat cheese, avocado, celery, walnut pesto and watercress on multigrain bread! We would go back to the room or eat poolside.
The afternoons varied from going back to the pool or having spa treatments (facials and massage) at the beautiful MGM SPA. It was equipped with a big Jacuzzi, dry steam and damp steam rooms, relaxation rooms, all connected to a big workout room if we wanted to exercise. Sometimes we hung out in our luxury suite and watched TV or napped. We also went shopping and took pictures on "the strip" one afternoon. Basically, each of us did what we felt like, just what vacation is all about. We always agreed to meet for a pre-dinner vino or beer around 6-7pm in our suite while getting ready for the night.